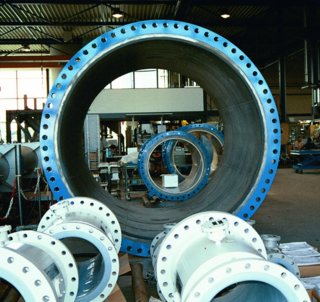 This page contains a description of a new market study from Flow Research on magnetic flowmeters. To order this study, contact Flow Research by email at jesse@flowresearch.com, or call Flow Research at 781-245-3200. Or, use our handy Order Form.

Flow Research has previously published this study in 2001, 2003, and 2005. The fourth edition builds on and expands on earlier editions. We have updated and expanded our segmentation, based on extensive supplier input.

For complete details on ordering the study, please see the Order Form above. Or, call us at (781) 245-3200. We'll be glad to provide complete details.
Flow Research has nearly completed a new market study on the worldwide magnetic flowmeter market. One goal was to determine the size of the worldwide magnetic flowmeter market. In addition, forecasts through 2013 are included.
The study achieves multiple purposes:
To determine market size and market shares for magnetic flowmeters worldwide and by geographic region.

To forecast market growth in magnetic flowmeters through 2013.

To understand the impact of new trends such as wireless, 2-wire, SIL Type, and advanced diagnostics on the magnetic flowmeter market.

To identify industries and applications where magnetic flowmeters are used.

To better understand the interaction of other new-technology flowmeters (ultrasonic, Coriolis, vortex, thermal) with magnetic flowmeters.

To provide strategies to manufacturers for selling into the magnetic flowmeter market.

To provide company profiles of the main suppliers of magnetic flowmeters.
The study is divided into the following regions:
The following is a partial list of the segmentation included in this study:
Wafer, flanged, insertion

Multivariable vs. Single Variable

Smart vs. conventional

Coil power types (AC, DC, high-strength DC, dual frequency DC)

Remote vs. compact (integral) configuration

2-wire, 4-wire, wireless/battery

Liner types

Applications

Line sizes (less than 1/2 inch to over 78 inches)

Foundation Fieldbus, Profibus DP, Profibus PA, HART, Modbus, DeviceNet, Serial, and Other communication protocols

Industries

Distribution channels

Customer types
The worldwide magnetic flowmeter market has experienced significant growth in the past four years. This study determines the causes of this growth, and forecasts prospects for future growth.
This study should be of special interest to any manufacturer of magnetic flowmeters, and to users and specifiers of magnetic flowmeters.
Flow Research has completed a series of sixteen studies that include all types of flowmeters. Information about these studies is at http://www.flowresearch.com/flow.htm.